Povetkin: First Hughie Fury, then Tyson Fury
"I'm just going to box. I will not be charged for the knockout," said the former world heavyweight champion Alexander Povetkin about the upcoming fight on August 31 in London against Hughie Fury. "Hughie Fury is young athlete with great skills. I take him very seriously. I worked on the transition to the infight. I trained with tall sparring partners, tried to approach closer, worked hard to pass the jab, do not miss it, and to perform any combination under it: dodging, making a step toward."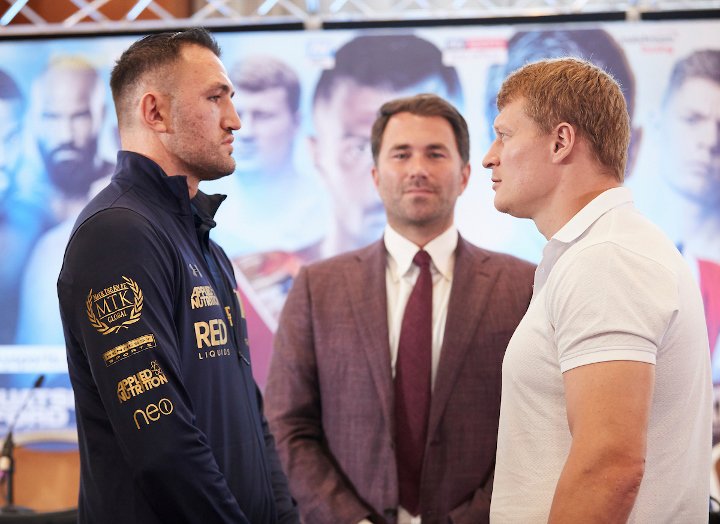 Hughie Fury and Alexander Povetkin a press conference before the fight
Fight against Fury for Povetkin will the third one in the UK. His previous fights as a pro were in Russia and Germany. "Russia is Russia, there is, of course, all the people cheering for you, in Germany, too. In England, they probably more aware of boxing. At least, I think so. Maybe they like it here because it appeared here. There are a lot of attention [to boxing]. I'm looking, what facilities are filled, what stadiums, many spectators come," said Povetkin.
Asked about his future plans after the fight with Fury, Povetkin said: "You know, I do not want to think about it. It would be necessary to fight Fury first. Of course, I would like to fight with Tyson Fury, because he talked a lot, he wanted to fight me. I do not know, you need to ask my promoters, why didn't this fight take place yet."
ТАСС