UFC239: Jones and Nunez defend titles, Błachowicz is a prophet, Masvidal creates sensation
In Las Vegas at UFC239 in the main event Jan Blachowicz happended to be a prophet, he produced a second-round knockout in his debut fight in the new division against Luke Rockhold. Jorge Masvidal created a sensation by knocking out Ben Askren in 5 seconds. Nunez defended her title by beating Holm. And Jones scored a win over Thiago Santos by split decision. Here are all the results of the tournament: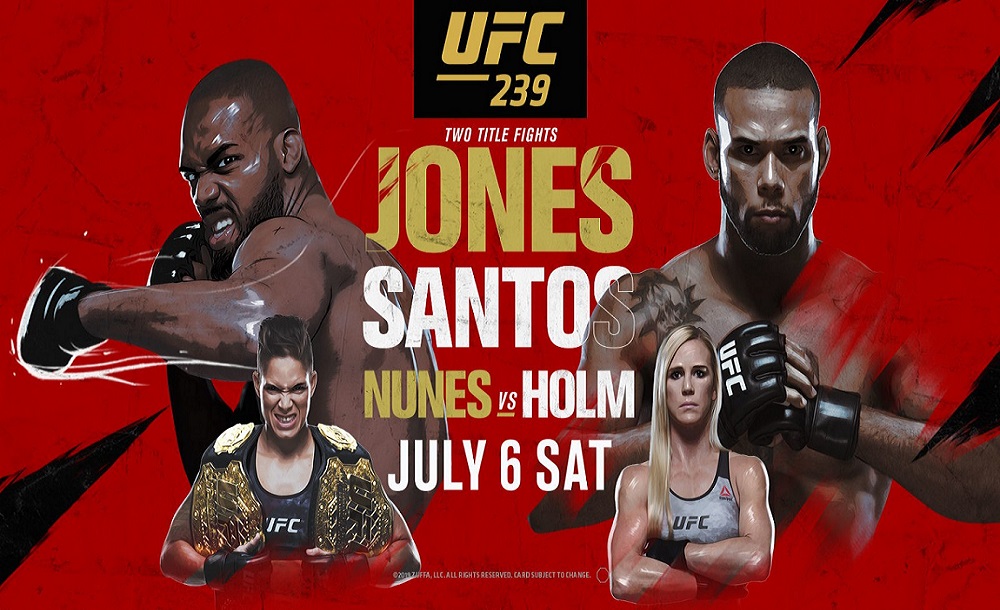 The main card:
John Jones (205) vs. Thiago Santos (204.5) - Jones' victory by split decision;
Amanda Nunez (135) vs. Holly Holm (133.5) - TKO victory for Nunez;
Ben Askern (171) vs. Jorge Masvidal (170.5) - Masvidal victory by knockout;
Jan Blachowicz (205.5) vs. Luke Rockhold (204.5) - Blachowicz victory by knockout;
Michael Chiesa (170.5) vs. Diego Sanchez (169) - Chiesa victory by unanimous decision.
Preliminary card: 
Arnold Allen (145.5) vs. Gilbert Melendez (145.5) - Allen's victory by unanimous decision;
Noleen Hernandez (136) vs. Marlon Vera (136) - Vera's win by choke; 
Claudia Gadel (115) vs. Randa Marcos (116) - Gadel victory by unanimous decision; 
Alejandro Perez (135.5) vs. Yadong Song (135.5) - KO victory for Yadong;
Jack Marshmen (185) vs. Edmen Shahbazyan (185) - rear naked choke victory for Shahbazyan.