Povetkin: Joshua says he would step over me? We'll see in the ring
On September 22 in London, the former heavyweight champion Alexander Povetkin will have, perhaps, the last chance to win the world title. At the arena of Wembley Stadium in London Povetkin will fight against the WBA, IBF and WBO title holder Anthony Joshua.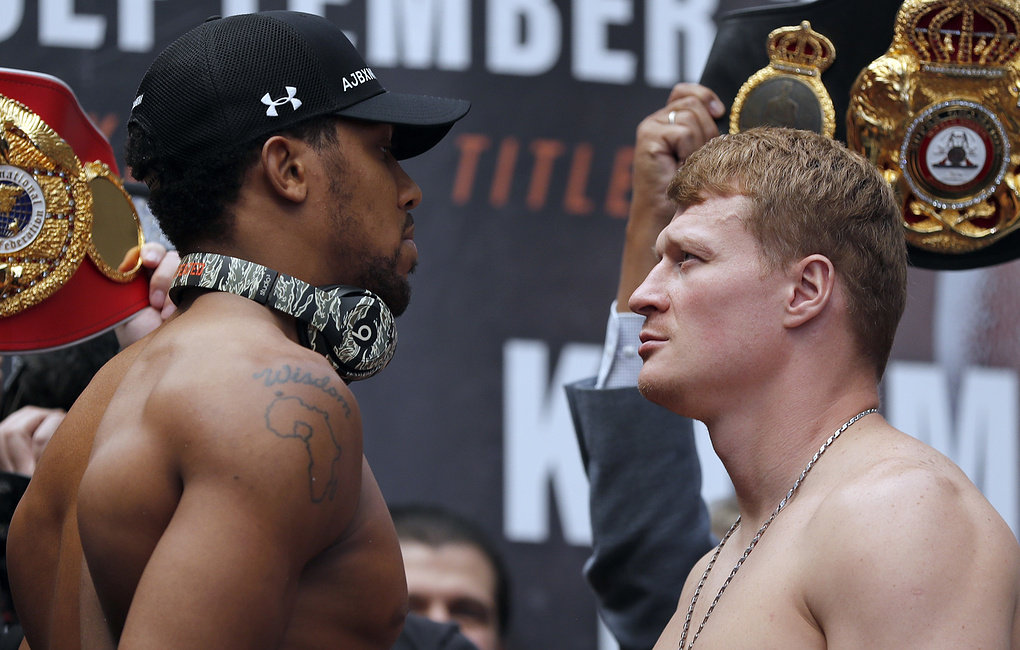 - Alexander, this Saturday you have a very tough fight. What thoughts do you have before the fight?
- I am absolutely calm and waiting for the battle. The only my thought is to go out and show beautiful and good performance. Of course, I will do everything to win.
- After visiting Wembley, I confess that I can hardly imagine what will happen inside you when you enter the ring in front of 80,000 people, most of whom will clearly not be on your side.
- It's OK. In Russia they would have support me, but, naturally, here they are against me. I repeat, it's okay. I do not even think about the aggression of the fans.
- Joshua himself is also quite confident, he often smiles.
- Joshua is a good guy, he behaves with dignity! He is an Olympic champion. And when we get into the ring, then we'll figure it out. He is tall and strong fighter with good amateur background and heavy punch. You need to defend yourself well against him.
- You already watch him in the eyes during media activities. What's you learn new for yourself about Joshua?
- I repeat, he is a good guy. It's nice when the athletes, in particular boxers, respect each other. And all the games are for the public... This is not inherent in Russian people. This is unambiguous. Anthony behaves with dignity.
- At the same time, Joshua once allowed himself a disrespectful statement in your address. In late July, the Briton in an interview with ESPN said that he does not focus his attention on the fight with you and is more waiting for the fight with Deontay Wilder, and also noted that he will "step over" you.
- We will see. I don't care. Statements are made by many, but how will it really be – we'll see.
- Now you have a top fight. The same status as in 2013, when you lost to Wladimir Klitschko. In comparison with what was then, is boxer Povetkin different now? Has anything changed besides the coaching staff?
- We added many different tactics, as well as strength and stamina. Now I'm different anyway. I added both in "physics" and in self-confidence.
- Do not you think that Joshua can copy the manner of Klitschko fighting?
- Joshua is another boxer. I do not think he will box like Klitschko. But we are ready for everything. We worked on everything: his actions in the attack, whether he will clinch it, or will go forward. The main thing now is to do it all.
- Globally, your preparation for this fight was different from the preparation for the previous fights?
- Globally, no. Just was the work on the tactics specifically for Anthony. We know that he is strong and young rival. We knew perfectly well that we had to get ready for this battle and make a good job of it.
- Many people call experience your main advantage.
- This is not for me to judge.
- At the same time you, unlike Joshua, do not have experience of fighting at 80 thousand fans.
- Yes, he will be at home. He is loved here, the public will be on his side. I'm okay with this and ready for it. It was always easier for me to box overseas. This was for amateurs. I concentrated more, but at home the walls help. For example, I went out in Cardiff during the fight with David Price, and I even liked it. I was calm about the fact that I would go out before such an audience, which would not be on my side.
- How do you plan to spend the day before the fight?
- We run every day in the mornings, we quietly make a shadow boxing. And so we can walk in the park, with the boys, we may laugh. We can dance (laughs).
- Do you think about what will happen to your career after this fight?
- I'm now set for this fight. Let's talk about the future later. Let's wait for the results, and there we will see.