Linares, Crolla ready to fight
WBA Lightweight World Champion Jorge Linares and former champion Anthony Crolla participated in a public workout at National Football Museum in Manchester, England on Tuesday in preparation for their rematch this Saturday, live on SHOWTIME from Manchester Arena.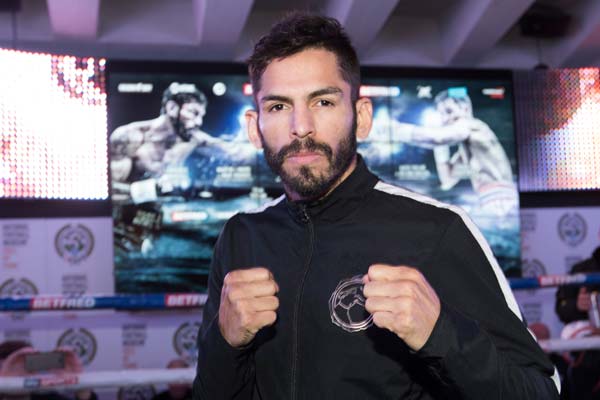 WBA Lightweight World Champion Jorge Linares
Linares (41-3, 27 KOs) dethroned Crolla (31-5-3, 13 KOs) in an action-packed battle last September in Manchester to capture the WBA crown. The Sept. 24 match was the first time the three-division titlist Linares, who also holds the WBC Diamond lightweight belt, was pushed the 12-round distance in his career.
The WBC has mandated that the winner of Linares-Crolla II must face undefeated WBC Lightweight Champion Mikey Garcia, who will join host Brian Custer and analysts Al Bernstein and Paulie Malignaggi in New York for the SHOWTIME BOXING INTERNATIONAL presentation.
Below are fight week quotes from Linares and Crolla:
JORGE LINARES:
"Crolla could come better prepared than last time. Maybe he will throw more punches, maybe he will box more, I don't really know. The most important thing is I hope he has worked really hard and comes in great condition so there are no excuses and no doubts after the fight.
"I can fight even better this time. Before the first fight I had a broken right hand and I hadn't fought for a while. That's always a factor, you know? Inactivity. I haven't had any issues physically or mentally, so the preparation has been great. We did 129 rounds of sparring and everything has gone well up to this point.
"I know he has been quiet in the build-up, I don't mind if he hasn't spoken much lately. Let's just hope it's a clean fight like the first one."
"The plans are in the future to get the biggest fights. Obviously the priority right now is to stay focused on Saturday but then I'll look towards the big fights like against Mikey Garcia.
"I really think coming to train with Ismael Salas made the difference. It's what helped me really establish myself as a professional fighter and to gain more experience. We learn 'old school' as Salas always says. It really has worked well for me in the two years I've been with him."
"I feel really good because this time we had a lot more time to prepare. We did some of the training camp in Japan and then eight weeks in Las Vegas.
"I'm happy to be back here in England again and have another opportunity. I get treated very well, I feel comfortable fighting here. The fans here have a lot of boxing knowledge and they know me well. It's nice, I feel at home."
ANTHONY CROLLA:
"It will be another good fight, that's for sure. Our styles gel really well and I don't see how it can't be another good fight, but this time I see a different winner. The key will be adapting. I might need to adapt a number of times in the fight but it is something I have trained for.
"I learned a lot from that fight. Linares has very good speed, very good ring craft and he used his big fight experience for when to take a rest, when to turn it on for the judges.
"This time I know I need to deal with the flashy combinations better, cut the ring off better and capitalize when he is open for shots.
"He has said he will come with another game plan but so will we. Last time I gave it everything, left it all in the ring, but I came up short. The right man won on the night and now I have a second chance at winning back the belt and beating a great fighter.
"I was disappointed I lost – you should never be happy with losing – but I was satisfied I gave everything on the night. When I watched it again there were things in the fight where I thought, 'why didn't I do this, why didn't I do that', but that is what I did do in the heat of the battle.
"You see people online saying Linares is a level above and that he outclassed me – he obviously didn't outclass me because two of the judges only had a point in it. The right man won and now I need to show my improvements and make sure the result is different.
"Last time out in Manchester I lost a close fight but with the improvements I have been making in the gym I believe this time it will be a different result.
"The rematch was always top of my list. Linares is top of the pile in the lightweight division and if there was a chance of having a rematch that was always more important to me than any other fight. I want to fight the best and be involved in the big fights and that's what this is.
"I want the chance to stake my claim as the best lightweight in the world by going out there and beating him.
"I wasn't going to turn down a rematch to try and ease myself back into title contention. I want these big fights; these big nights in Manchester are what I thrive on.
"I feel better than I have ever felt. Camp has gone really well and there will certainly be no excuses. I have had no distractions outside of camp and everything is good. It is a matter now of showing in the ring tonight the improvements I have been showing in the gym.
"I have had no social life for the past few months and I will walk to the ring knowing that, knowing I have prepared in the best way I possibly can. There will be no 'what if I had done this', 'what if I had done that' – I have prepared the best I possibly can."