Nationality:

Residence:

Paris, France

Born:

April 28, 1992 (31 year)

Place of Birth:

Paris, France

Height:

6′7″ / 201 cm

Reach:

81″ / 208 cm
Record:

11-1, 9 КО

Division:

Heavyweight (Unlimited)

Debut:

June 2, 2017

Stance:

Orthodox

Alias:

La Conquete

BoxRec ID:

795843
Yoka won the gold over the British boxer Joe Joyce in the super heavyweight division at the 2016 Olympic Games, getting France the first Super Heavyweight gold medal of their history.
Next fight of Tony Yoka is not determined yet.
Date
Participant
Record
Results
Date
Participant
Record
Results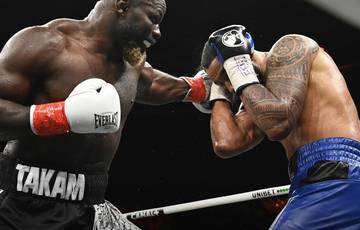 March 12, 2023, 1:08 a.m.
42 year old heavyweight Carlos Takam (40-7-1, 28 KOs) won a split decision victory over the 2016 Olympic heavyweight champion Tony Yokoi (11-2, 9 KOs) in the main match of the evening at the Paris Zenith Arena. The constant pressure over the ten rounds gave Takamu a 96-94 lead on two judges' scorecards. The third judge somehow felt that Yoka was better than 96-94. For Yoka, this defeat was the second in a row after losing last May to Martin Bakola. Before the fight, Yoka was the undisputed favorite 6 to 1.
---
TONY YOKA PROFILE WHAT IS TONY YOKA'S RECORD?
Tony Yoka's record currently stands at 11 wins, 1 lose and 0 draw.
WHAT WAS YOKA'S LAST FIGHT?
Tony Yoka's last fight took place against Carlos Takam on March 11, 2023, in Paris, France. He lost by SD in the 10 round. That fight was 8 months and 29 days ago.
HOW ACTIVE IS TONY YOKA?
Yoka's last 3 fights have come over a period of 2 years, 3 months and 12 days, meaning he has been fighting on average every 9 months and 3 days. In those fights, he fought a total of 30 rounds, meaning that they have lasted 10 rounds on average.
WHERE IS TONY YOKA FROM?
Yoka was born in France.
HOW OLD IS TONY YOKA?
The Tony Yoka is currently 31 years old. He was born on April 28, 1992, so he will turn 32 in 4 months and 18 days.
HOW LONG HAS YOKA BEEN FIGHTING?
Tony Yoka made his professional debut in June 2017, so he has been a pro for 6 years.
HOW TALL IS TONY YOKA?
Yoka is 6' 7" (6 Foot and 7 inch) which is 201 cm (2 meters and 1 centimeter).
WHAT IS YOKA'S REACH?
His reach is 82 inches (82") which is 208 cm (2 meters and 8 centimeters).
WHAT STANCE DOES TONY YOKA USE?
Yoka fights from a orthodox, which means he favours his right hand as his power hand when fighting.
WHAT WILL BE TONY YOKA'S NEXT FIGHT?
Tony Yoka doesn't currently have a fight scheduled
TONY YOKA'S SOCIAL PROFILES