Nationality:

Residence:

Knoxville, USA

Born:

April 8, 1983 (39 years)

Place of Birth:

Immokalee, USA

Height:

6′3″ / 193 cm

Reach:

6′7″ / 203 cm
Record:

23-12, 11 КО

Division:

Light Heavyweight (205 lbs)

Debut:

Sept. 27, 2008

Alias:

OSP
Next fight of Ovince Saint Preux is not determined yet.
Date
Participant
Record
Results
Date
Participant
Record
Results
Boxing News: Ovince Saint Preux
April 7, 2020, 10:04 a.m.
UFC promotion plans to hold a tournament of Fight Night series on April 25. This event will be headlined by a fight Smith vs Teixeira. As it became known, the card of the event was added with another interesting confrontation: Ion Cutelaba will meet in the Octagon with Ovince Saint Preux. Fighters have already made a verbal agreement to fight.
---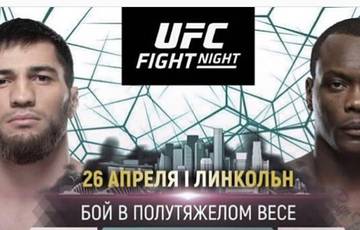 Feb. 6, 2020, 11:03 p.m.
Russian light heavyweight Shamil Gamzatov will return to the cage on April 26 at Lincoln. His opponent will be Ovince Saint Preux. The bout will take place as part of UFC Fight Night 173. Gamzatov briefly commented on the news, writing in his Instagram: "Well, let's go."
---
Ovince Saint Preux: Video
OVINCE SAINT PREUX PROFILE WHAT IS OVINCE SAINT PREUX'S RECORD?
Ovince Saint Preux's record currently stands at 23 wins, 12 loses and 0 draw.
WHAT WAS PREUX'S LAST FIGHT?
Ovince Saint Preux's last fight took place against Mauricio Rua on May 7, 2022, in Phoenix, USA. He won by SD in the 3 round. That fight was 8 months and 26 days ago.
HOW ACTIVE IS OVINCE SAINT PREUX?
Preux's last 3 fights have come over a period of 3 years, 24 days, meaning he has been fighting on average every 0 month and 8 days. In those fights, he fought a total of 8 rounds, meaning that they have lasted 2 rounds on average.
WHERE IS OVINCE SAINT PREUX FROM?
Preux was born in USA.
HOW OLD IS OVINCE SAINT PREUX?
The Ovince Saint Preux is currently 39 years old. He was born on April 8, 1983, so he will turn 40 in 2 months and 6 days.
HOW LONG HAS PREUX BEEN FIGHTING?
Ovince Saint Preux made his professional debut in September 2008, so he has been a pro for 14 years.
HOW TALL IS OVINCE SAINT PREUX?
Preux is 6' 3" (6 Foot and 3 inch) which is 193 cm (1 meter and 93 centimeters).
WHAT IS PREUX'S REACH?
His reach is 80 inches (80") which is 203 cm (2 meters and 3 centimeters).
WHAT WILL BE OVINCE SAINT PREUX'S NEXT FIGHT?
Ovince Saint Preux doesn't currently have a fight scheduled