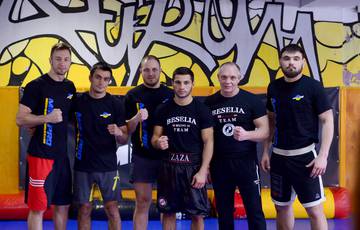 comments
Feb. 7, 2018, 3:05 p.m.
On February 24 at the Freedom Event Hall in Kiev, Ukraine, unbeaten super lightweight Mishiko Beselia (17-0, 12 KOs) of Cherkassy, Ukraine, will fight for the first in his career title against Vladislav Melnik (5-0, 3 KOs). The belt of the champion of Ukraine will be at stake.
The duel will take place within the International Tournament MMA PRO UKRAINE 15. The tournament organizer is the Professional League of MMA PRO UKRAINE with the participation of the Klitschko's K2 Promotions Ukraine.
The card of the evening has 12 fights, 2 of which will be title bouts. The main event of the tournament will be the battle for the title of European MMA champion between Ukrainian Maksim Pashkov and Brazilian Gustavo Vurlitzer.
Watch the photos from Mishiko Beselia's open training.