Nationality:

Residence:

Kryvyi Rih, Ukraine

Place of Birth:

Kryvyi Rih, Ukraine

Height:

6′2″ / 190 cm
Record:

10-1, 8 КО

Debut:

June 23, 2019

BoxRec ID:

856426
Next fight of Ihor Shevadzutskyi is not determined yet.
Date
Participant
Record
Results
Date
Participant
Record
Results
Boxing News: Ihor Shevadzutskyi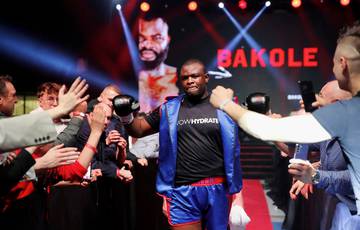 April 24, 2023, 7:51 p.m.
Ben Shalom, head of the Boxxer promotion organization, has high hopes for Martina Bakole (19-1, 14 KOs), who on Saturday in Rzeszow defeated a previously undefeated Ukrainian Igor Shevadzutsky. The Congolese currently ranks second in the WBA rankings. The number one remains Deontay Wilder (43-2-1, 42 KOs). And that is exactly what the British promoter is going to target.
---
IHOR SHEVADZUTSKYI PROFILE WHAT IS IHOR SHEVADZUTSKYI'S RECORD?
Ihor Shevadzutskyi's record currently stands at 10 wins, 1 lose and 0 draw.
WHAT WAS SHEVADZUTSKYI'S LAST FIGHT?
Ihor Shevadzutskyi's last fight took place against Martin Bakole on April 22, 2023, in Zheshov, Poland. He lost by TKO in the 3 round. That fight was 7 months and 17 days ago.
HOW ACTIVE IS IHOR SHEVADZUTSKYI?
Shevadzutskyi's last 1 fights have come over a period of day, meaning he has been fighting on average every month and day. In those fights, he fought a total of round, meaning that they have lasted round on average.
WHERE IS IHOR SHEVADZUTSKYI FROM?
Shevadzutskyi was born in Ukraine.
HOW LONG HAS SHEVADZUTSKYI BEEN FIGHTING?
Ihor Shevadzutskyi made his professional debut in June 2019, so he has been a pro for 4 years.
HOW TALL IS IHOR SHEVADZUTSKYI?
Shevadzutskyi is 6' 2" (6 Foot and 2 inch) which is 190 cm (1 meter and 90 centimeters).
WHAT STANCE DOES IHOR SHEVADZUTSKYI USE?
Shevadzutskyi fights from a orthodox, which means he favours his right hand as his power hand when fighting.
WHAT WILL BE IHOR SHEVADZUTSKYI'S NEXT FIGHT?
Ihor Shevadzutskyi doesn't currently have a fight scheduled
IHOR SHEVADZUTSKYI'S SOCIAL PROFILES