Andrade beats Sulecki on points, defends his title
Demetrius Andrade (28-0, 17 KOs) scored a unanimous decision victory over Maciej Sulecki (28-2, 11 KOs) in the main event of the evening in Providence, USA. Thus, the American for a second time defended his WBO middleweight title.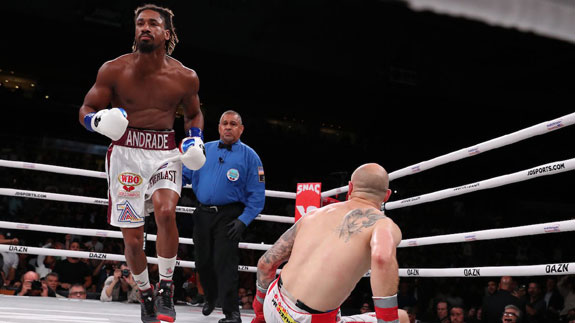 Andrade from the first bell went ahead, and sent the opponent to the canvas with several accurate punches. Sulecki raised quickly, but before the end of the round was just defending himself.
The next two rounds were not as one-sided as the first three minutes, but the American always had advantage in the ring. 31-year-old Andrade worked accurately, and although not as effective, but he controlled the fight and forced the enemy to defend himself constantly.
Sulecki had big problems to cope with the opponent's style. The southpaw Andrade deliberately accelerated at the end of each round, showing judges his advantage. The Pole tried to apply accurate strikes to the body, and sometimes he succeeded, but his punches did not have any particular effect on the champion.
In the second half of the fight Andrade slowed. He threw fewer combinations, but still controlled the distance with the front hand. Sulecki looked to land his right hand, but the American in most cases effectively defended and striked dangerous counterattacks.
After twelve rounds all of the judges scored it 120-107 in favor of Andrade. For Sulecki it was the second professional defeat in the first attempt to win a world title. Andrade defended his World Boxing Organization belt, he won last year. Perhaps Gennady Golovkin will be his next opponent.