Golub: Derevyanchenko's time has come, he can become a champion
Ukrainian welterweight Ivan Golub shared the news about his next fight, and also his opinion about the upcoming fight of his compatriot Sergey Derevyanchenko with American Daniel Jacobs for the IBF world title. Golub trains with both boxers in one gym and often has the opportunity to observe their work.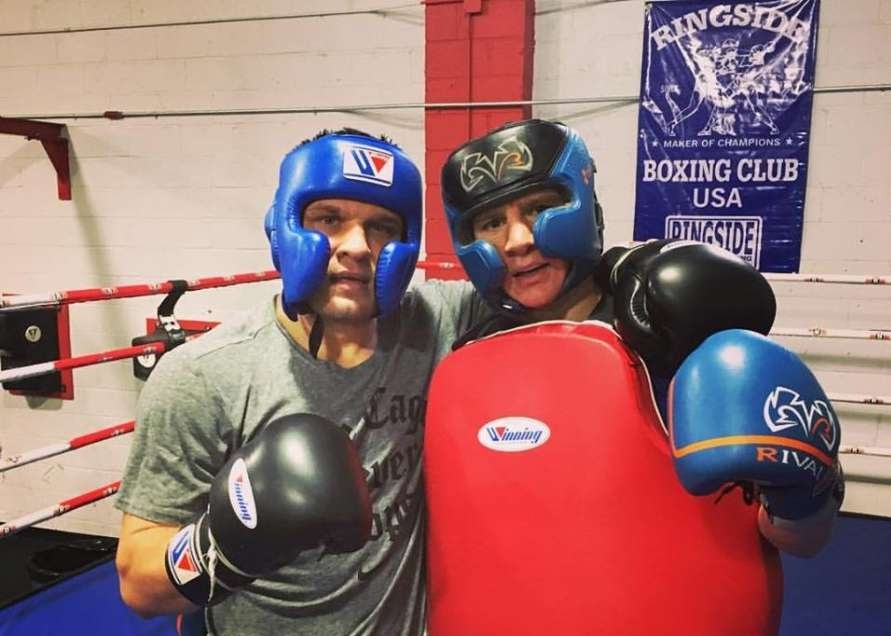 Sergiy Derevyanchenko and Ivan Golub
- The first question, of course, will be connected with the return to the ring. You last fought 5 months ago, when we will again be able to watch you in the ring?
- Tentative date of battle is July 20, but so far no details are available.
- After the first defeat from Clark, has the attitude to you on the part of the promoter changed?
- No, everything is as before. They also do not agree with the result, but it is what it is.
- Is it difficult to adapt in a new gym with a new coach? Does Diaz have any special approach to the fighters?
- While I came to the camp to try. Each coach has his own approach to the fighters. Pedro has more like our system. I poured in the work immediately, there were no problems, except that because of the heat and humid climate, workouts are more difficult.
- Is there any desire to take revenge from Clark?
- I think the answer is obvious - there is. I think we'll meet again.
- You communicate with Sergey Derevyanchenko, we have seen your photos in the gym, etc. Now he will have a fight for the world title with Daniel Jacobs. And they have the same coach. What can you say about this?
- Derevyanchenko's time has come, and I know he can become a champion. Sergey always looked good in sparring. André Rosier trains both of them. But he also works with Gary Stark and Korchinsky, Jr., I think, under their leadership he will be well prepared. Derevyanchenko is the first number in the IBF ratings, and Jacobs is next. For each of them it is a chance to become a champion. It will be a very interesting fight.
- Do you often come to Ukraine?
- Unfortunately, it has not been there for a very long time, more than two years. A long parting with relatives is the most difficult part of this, our parents are not even familiar with the grandson personally. But now I'm at work, so the homeland is postponed.
- Do you follow up-to-date news from the boxing world? Now there is a lot of talk about Stevenson-Gvozdyk fight. What can you say about this confrontation?
- I follow the news. A good fight, I believe in Alexander.
- Recently, it was officially announced the place of Usyk vs Gassiev. The fight will be in Moscow. Is this normal solution? Is it possible to fight at someone's territory?
- I think it would be better to fight in neutral territory.
- Is it possible to say that Usyk lost some advantage?
- No. The main thing is an objective refereeing. Usyk is a high-level boxer, I think, he does not care where to fight. There's much motivation for him, because all the belts are at stake.