St. Pierre strangles Bisping in a spectacular battle (video)
Legendary mixed martial arts fighter George St. Pierre after a four-year hiatus returned to the octagon, gaining a stoppage victory over Michael Bisping in the main event of the UFC 217 tournament.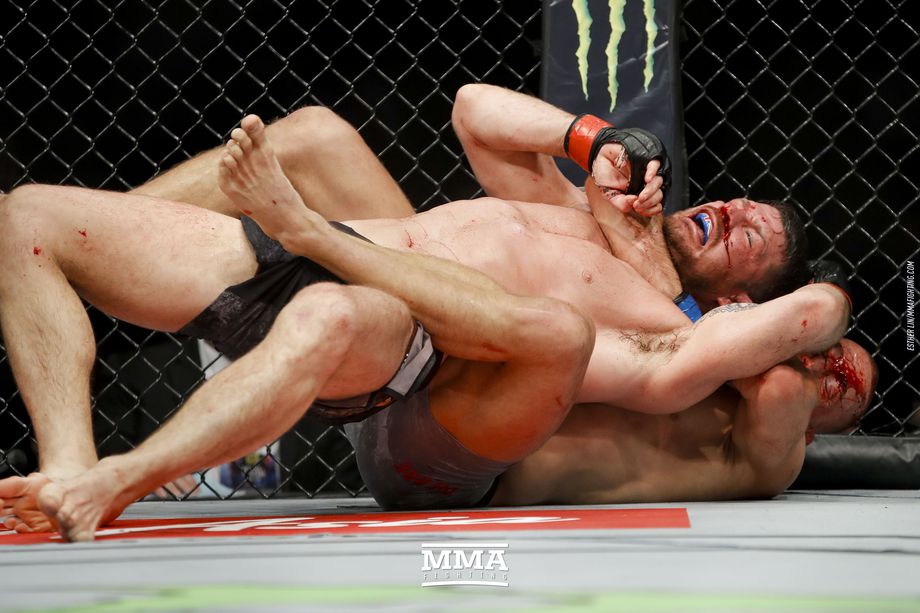 From the first seconds of the fight St. Pierre confidently took the center of the octagon, but acted very carefully. The fighters exchanged jabs, the Canadian occasionally connected low-kicks. At the end of the first minute George held the first takedown, but Bisping immediately got into the stance. The ending of the round was with several serious kicks performed by Saint-Pierre.
In the second part of the fight George connected with his favorite blows with a reversal, but noticeably sat down functionally. Bisping became more active, began to strike more often with his hands and deal a noticeable break down to his opponent. St. Pierre made another successful transfer to the ground, but Bisping again rose steadily to his feet.
St. Pierre at the beginning of the third five-minute round confidently made another transfer to the ground, they spent half the round there and kept wrestling. Nevertheless, Bisping attacked from the guard and managed to inflict a serious cut on the Canadians. It was clear that George spent a lot of energy when the fighters returned to the stance. However, St. Pierre was not going to slow down and he sent Bisping down with a left hand punch. The Canadian began to beat the British with a huge number of blows, Bisping desperately resisted, but made a mistake and gave Saint-Pierre a back. George fully took advantage of the opportunity and skillfully conducted a stifling reception from behind - Bisping fainted. The referee stopped the fight at around 4:20 of the third round.
Thus George St. Pierre for many years dominating the welterweight division in the past becomes the new UFC champion in the middleweight division.
Watch the key moment of the fight:
Watch full fight video: