Nationality:

Residence:

Bloomfield, USA

Born:

May 2, 1983 (39 years)

Height:

6′5″ / 198 cm
Record:

23-1-1, 18 КО

Division:

Heavyweight (Unlimited)

Debut:

Aug. 8, 2014

Stance:

Southpaw

BoxRec ID:

692149
Next fight of Zhilei Zhang is not determined yet.
Date
Participant
Record
Results
Date
Participant
Record
Results
Boxing News: Zhilei Zhang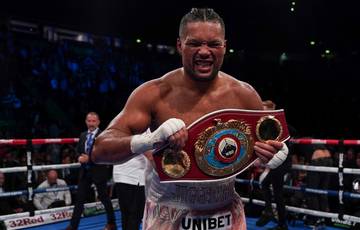 Jan. 20, 2023, 6:09 p.m.
April 15 in London will be a fight between the interim WBO world heavyweight champion Joe Joyce (15-0, 14 KOs) and Zhilei Zhang (24-1-1, 19 KOs).
---
ZHILEI ZHANG PROFILE WHAT IS ZHILEI ZHANG'S RECORD?
Zhilei Zhang's record currently stands at 23 wins, 1 lose and 1 draw.
WHAT WAS ZHANG'S LAST FIGHT?
Zhilei Zhang's last fight took place against Filip Hrgovic on Aug. 20, 2022, in Jeddah, Saudi Arabia. He lost by UD in the 12 round. That fight was 5 months and 13 days ago.
HOW ACTIVE IS ZHILEI ZHANG?
Zhang's last 3 fights have come over a period of 1 year, 5 months and 24 days, meaning he has been fighting on average every 5 months and 26 days. In those fights, he fought a total of 23 rounds, meaning that they have lasted 7 rounds on average.
WHERE IS ZHILEI ZHANG FROM?
Zhang was born in China.
HOW OLD IS ZHILEI ZHANG?
The Zhilei Zhang is currently 39 years old. He was born on May 2, 1983, so he will turn 40 in 3 months and 0 day.
HOW LONG HAS ZHANG BEEN FIGHTING?
Zhilei Zhang made his professional debut in August 2014, so he has been a pro for 8 years.
HOW TALL IS ZHILEI ZHANG?
Zhang is 6' 5" (6 Foot and 5 inch) which is 198 cm (1 meter and 98 centimeters).
WHAT STANCE DOES ZHILEI ZHANG USE?
Zhang fights from a southpaw, which means he favours his left hand as his power hand when fighting.
WHAT WILL BE ZHILEI ZHANG'S NEXT FIGHT?
Zhilei Zhang doesn't currently have a fight scheduled