Nationality:

Born:

Feb. 7, 1983 (39 years)
Record:

21-2, 10 КО

Division:

Cruiserweight (200 lbs)

BoxRec ID:

508977
Next fight of Mike Wilson is not determined yet.
Date
Participant
Record
Results
Date
Participant
Record
Results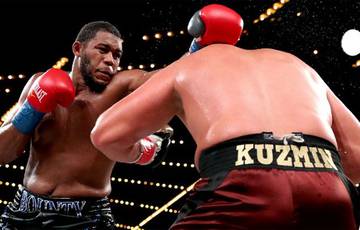 July 1, 2021, 7:01 p.m.
On August 3, New York's Madison Square Garden Theater will host the first in a series of monthly boxing nights hosted by Triller. The evenings will be streamed on the Triller app and on the FITE service.
---
MIKE WILSON PROFILE WHAT IS MIKE WILSON'S RECORD?
Mike Wilson's record currently stands at 21 wins, 2 loses and 0 draw.
WHAT WAS WILSON'S LAST FIGHT?
Mike Wilson's last fight took place against Michael Hunter on Aug. 3, 2021, in New York, USA. He lost by TKO in the 4 round. That fight was 4 months and 2 days ago.
HOW ACTIVE IS MIKE WILSON?
Wilson's last 2 fights have come over a period of day, meaning he has been fighting on average every month and day. In those fights, he fought a total of round, meaning that they have lasted round on average.
WHERE IS MIKE WILSON FROM?
Wilson was born in USA.
HOW OLD IS MIKE WILSON?
The Mike Wilson is currently 39 years old. He was born on Feb. 7, 1983, so he will turn 40 in 2 months and 2 days.
WHAT WILL BE MIKE WILSON'S NEXT FIGHT?
Mike Wilson doesn't currently have a fight scheduled