Nationality:

Born:

Feb. 6, 1997 (26 years)

Height:

5′4″ / 166 cm
Record:

24-1, 12 КО

Debut:

Aug. 22, 2014

BoxRec ID:

695993
Next fight of Mike Plania is not determined yet.
Date
Participant
Record
Results
Date
Participant
Record
Results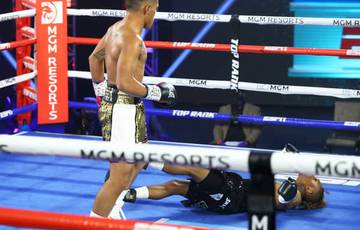 June 17, 2020, 1:04 p.m.
Mike Plania (24-1, 12 KOs) scored rather unexpected victory over the first number of the WBO bantamweight ratings Joshua Greer Jr. (22-2-1, 12 KOs) in the main event of the evening in the Top Rank's Bubble at the arena of MGM Grand in Las Vegas. Already in the first round, Greer visited the floor after a left hook to the head. After the same blow, Greer was again on the floor in the sixth round. Greer tried to snatch the ending, but it was already too late. The scores were 94-94, 96-92, 97-91. Before the fight, Greer's chances of winning were regarded as 3 to 1.
---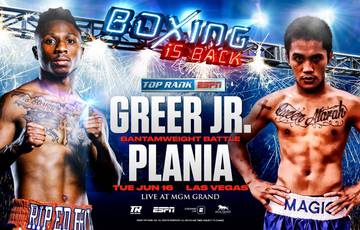 June 16, 2020, 12:46 p.m.
Live broadcast of the boxing event from Las Vegas, in the main event of which there will be a 10-round bout in the super bantamweight division of Joshua Greer Jr. (22-1-1, 12 KOs) and Mike Plania (23-1, 12 KOs).
---
MIKE PLANIA PROFILE WHAT IS MIKE PLANIA'S RECORD?
Mike Plania's record currently stands at 24 wins, 1 lose and 0 draw.
WHAT WAS PLANIA'S LAST FIGHT?
Mike Plania's last fight took place against Joshua Greer Jr on June 16, 2020, in Las Vegas, USA. He won by MD in the 10 round. That fight was 11 months and 25 days ago.
HOW ACTIVE IS MIKE PLANIA?
Plania's last 1 fights have come over a period of day, meaning he has been fighting on average every month and day. In those fights, he fought a total of round, meaning that they have lasted round on average.
HOW OLD IS MIKE PLANIA?
The Mike Plania is currently 26 years old. He was born on Feb. 6, 1997, so he will turn 27 in 7 months and 27 days.
HOW LONG HAS PLANIA BEEN FIGHTING?
Mike Plania made his professional debut in August 2014, so he has been a pro for 8 years.
HOW TALL IS MIKE PLANIA?
Plania is 5' 5" (5 Foot and 5 inch) which is 166 cm (1 meter and 66 centimeters).
WHAT STANCE DOES MIKE PLANIA USE?
Plania fights from a orthodox, which means he favours his right hand as his power hand when fighting.
WHAT WILL BE MIKE PLANIA'S NEXT FIGHT?
Mike Plania doesn't currently have a fight scheduled