Nationality:

Born:

May 4, 1982 (40 years)

Height:

5′6″ / 172 cm
Record:

40-3-1, 18 КО

Division:

Super Lightweight (140 lbs)

Debut:

Oct. 2, 2004

Stance:

Orthodox

BoxRec ID:

272643
Next fight of Michele Di Rocco is not determined yet.
Date
Participant
Record
Results
Date
Participant
Record
Results
Boxing News: Michele Di Rocco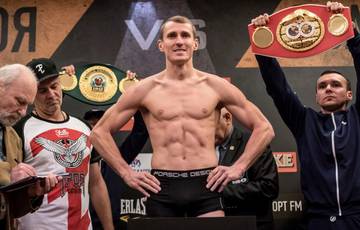 July 1, 2017, 11:21 p.m.
In his first bout since losing his IBF world title last December, super lightweight Eduard Troyanovsky (26-1, 23 KOs) destroyed former Euro champ Michele Di Rocco (41-3-1, 18 KOs) in four rounds on Saturday night at the Luzhniki Concert Hall in Moscow. Troyanovsky dropped Di Rocco in rounds one and three, both times with right hands. Two more knockdowns in round four ended it. Time was 2:18.
---
MICHELE DI ROCCO PROFILE WHAT IS MICHELE DI ROCCO'S RECORD?
Michele Di Rocco's record currently stands at 40 wins, 3 loses and 1 draw.
WHAT WAS ROCCO'S LAST FIGHT?
Michele Di Rocco's last fight took place against Eduard Troyanovsky on July 1, 2017, in Moscow, Russia. He lost by TKO in the 4 round. That fight was 4 months and 27 days ago.
HOW ACTIVE IS MICHELE DI ROCCO?
Rocco's last 3 fights have come over a period of 2 years, 1 month and 1 day, meaning he has been fighting on average every 8 months and 10 days. In those fights, he fought a total of 20 rounds, meaning that they have lasted 6 rounds on average.
WHERE IS MICHELE DI ROCCO FROM?
Rocco was born in Italy.
HOW OLD IS MICHELE DI ROCCO?
The Michele Di Rocco is currently 40 years old. He was born on May 4, 1982, so he will turn 41 in 5 months and 6 days.
HOW LONG HAS ROCCO BEEN FIGHTING?
Michele Di Rocco made his professional debut in October 2004, so he has been a pro for 18 years.
HOW TALL IS MICHELE DI ROCCO?
Rocco is 5' 7" (5 Foot and 7 inch) which is 172 cm (1 meter and 72 centimeters).
WHAT STANCE DOES MICHELE DI ROCCO USE?
Rocco fights from a orthodox, which means he favours his right hand as his power hand when fighting.
WHAT WILL BE MICHELE DI ROCCO'S NEXT FIGHT?
Michele Di Rocco doesn't currently have a fight scheduled