Nationality:

Residence:

Grand Rapids, USA

Born:

May 19, 1991 (31 year)

Place of Birth:

Chicago, USA

Height:

6′3″ / 193 cm

Reach:

6′6″ / 201 cm
Record:

12-1, 7 КО

Division:

Light Heavyweight (205 lbs)

Debut:

Sept. 30, 2017

Alias:

Sweet Dreams
Next fight of Jamahal Hill is not determined yet.
Date
Participant
Record
Results
Date
Participant
Record
Results
Boxing News: Jamahal Hill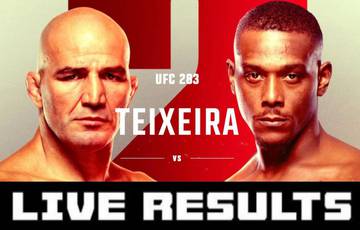 Jan. 22, 2023, 9:42 a.m.
UFC 283 was held in Rio de Janeiro today. In the main event of the evening, Jamaal Hill won a unanimous decision against Glover Teixeira and became the promotion's new light heavyweight champion. Separately, it should be noted the victory of the Ukrainian Igor Loss in the battle with Mauricio Rua. To your attention all the results of the event:
---
JAMAHAL HILL PROFILE WHAT IS JAMAHAL HILL'S RECORD?
Jamahal Hill's record currently stands at 12 wins, 1 lose and 0 draw.
WHAT WAS HILL'S LAST FIGHT?
Jamahal Hill's last fight took place against Glover Teixeira on Jan. 21, 2023, in Rio de Janeiro, Brazil. He won by UD in the 5 round. That fight was 2 months and 5 days ago.
HOW ACTIVE IS JAMAHAL HILL?
Hill's last 1 fights have come over a period of day, meaning he has been fighting on average every month and day. In those fights, he fought a total of round, meaning that they have lasted round on average.
WHERE IS JAMAHAL HILL FROM?
Hill was born in USA.
HOW OLD IS JAMAHAL HILL?
The Jamahal Hill is currently 31 years old. He was born on May 19, 1991, so he will turn 32 in 1 month and 23 days.
HOW LONG HAS HILL BEEN FIGHTING?
Jamahal Hill made his professional debut in September 2017, so he has been a pro for 5 years.
HOW TALL IS JAMAHAL HILL?
Hill is 6' 3" (6 Foot and 3 inch) which is 193 cm (1 meter and 93 centimeters).
WHAT IS HILL'S REACH?
His reach is 79 inches (79") which is 201 cm (2 meters and 1 centimeter).
WHAT WILL BE JAMAHAL HILL'S NEXT FIGHT?
Jamahal Hill doesn't currently have a fight scheduled