Nationality:

Residence:

Accra, Ghana

Born:

June 2, 1988 (35 years)

Place of Birth:

Accra, Ghana
Record:

19-1, 16 КО

Division:

Heavyweight (Unlimited)

Debut:

April 27, 2012

BoxRec ID:

611196
Next fight of Ebenezer Tetteh is not determined yet.
Date
Participant
Record
Results
Date
Participant
Record
Results
Boxing News: Ebenezer Tetteh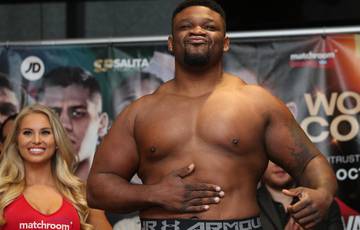 Aug. 31, 2022, 8:09 a.m.
Jarrell Miller (25-0-1, 21 KOs) is scheduled for October 3 fight in Kazakhstan. The American heavyweight contender will face Ghana's Ebenezer Tette (20-1, 17 KOs). The fight is scheduled for ten rounds.
---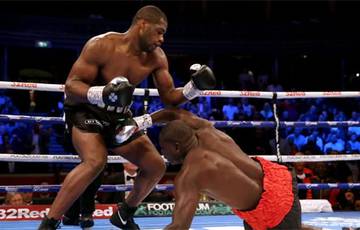 Sept. 28, 2019, 1:14 p.m.
In the boxing evening of the British promoter Frank Warren in London, 22-year-old Daniel Dubois (13-0, 12 KOs) scored a TKO win in the first round over Ebenezer Tetteh (19-0, 16 KOs).
---
EBENEZER TETTEH PROFILE WHAT IS EBENEZER TETTEH'S RECORD?
Ebenezer Tetteh's record currently stands at 19 wins, 1 lose and 0 draw.
WHAT WAS TETTEH'S LAST FIGHT?
Ebenezer Tetteh's last fight took place against Daniel Dubois on Sept. 27, 2019, in London, United Kingdom. He lost by TKO in the 1 round. That fight was 11 months and 25 days ago.
HOW ACTIVE IS EBENEZER TETTEH?
Tetteh's last 1 fights have come over a period of day, meaning he has been fighting on average every month and day. In those fights, he fought a total of round, meaning that they have lasted round on average.
WHERE IS EBENEZER TETTEH FROM?
Tetteh was born in Ghana.
HOW OLD IS EBENEZER TETTEH?
The Ebenezer Tetteh is currently 35 years old. He was born on June 2, 1988, so he will turn 36 in 8 months and 12 days.
HOW LONG HAS TETTEH BEEN FIGHTING?
Ebenezer Tetteh made his professional debut in April 2012, so he has been a pro for 11 years.
WHAT WILL BE EBENEZER TETTEH'S NEXT FIGHT?
Ebenezer Tetteh doesn't currently have a fight scheduled