Nationality:

Residence:

Medford, USA

Born:

July 2, 1980 (43 years)

Height:

6′3″ / 191 cm
Record:

30-9, 14 КО

Division:

Heavyweight (Unlimited)

Debut:

Oct. 30, 2004

Stance:

Orthodox

Alias:

The Shaolin Fist/El León

BoxRec ID:

278852
Next fight of Derrick Rossy is not determined yet.
Date
Participant
Record
Results
Date
Participant
Record
Results
Boxing News: Derrick Rossy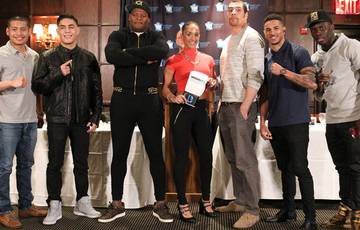 March 31, 2017, 10:52 a.m.
Unbeaten heavyweight contender Luis "The Real King Kong" Ortiz (27-0, 23 KOs) will return to the ring to take on Long Island's Derric Rossy (31-12, 15 KOs) in a 10-round showdown Saturday, April 22 in a Premier Boxing Champions event live from Barclays Center, the home of BROOKLYN BOXING™.
---
DERRICK ROSSY PROFILE WHAT IS DERRICK ROSSY'S RECORD?
Derrick Rossy's record currently stands at 30 wins, 9 loses and 0 draw.
WHAT WAS ROSSY'S LAST FIGHT?
Derrick Rossy's last fight took place against Akhror Muralimov on Feb. 14, 2015, in Queens, USA. He won by UD in the 10 round. That fight was 7 months and 17 days ago.
HOW ACTIVE IS DERRICK ROSSY?
Rossy's last 3 fights have come over a period of 8 months and 29 days, meaning he has been fighting on average every 2 months and 30 days. In those fights, he fought a total of 30 rounds, meaning that they have lasted 10 rounds on average.
HOW OLD IS DERRICK ROSSY?
The Derrick Rossy is currently 43 years old. He was born on July 2, 1980, so he will turn 44 in 9 months and 1 day.
HOW LONG HAS ROSSY BEEN FIGHTING?
Derrick Rossy made his professional debut in October 2004, so he has been a pro for 18 years.
HOW TALL IS DERRICK ROSSY?
Rossy is 6' 3" (6 Foot and 3 inch) which is 191 cm (1 meter and 91 centimeters).
WHAT STANCE DOES DERRICK ROSSY USE?
Rossy fights from a orthodox, which means he favours his right hand as his power hand when fighting.
WHAT WILL BE DERRICK ROSSY'S NEXT FIGHT?
Derrick Rossy doesn't currently have a fight scheduled