Nationality:

Place of Birth:

Bydgoszcz, Poland

Height:

6′6″ / 201 cm

Reach:

7′2″ / 218 cm
Record:

7-0, 4 КО

Debut:

June 26, 2021

BoxRec ID:

920728
Next fight of Damian Knyba is not determined yet.
Boxing News: Damian Knyba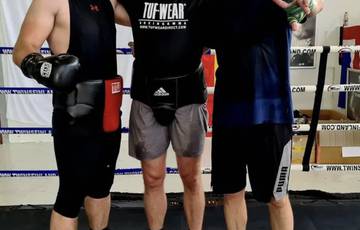 Sept. 29, 2022, 2:04 p.m.
WBA Gold Heavyweight Champion Robert Helenius continues to prepare for the fight on October 15 at the Barclays Center in New York against the former world champion Deontay Wilder. The northern nightmare trains at its gym in Mariehamn on the Åland Islands in Finland.
---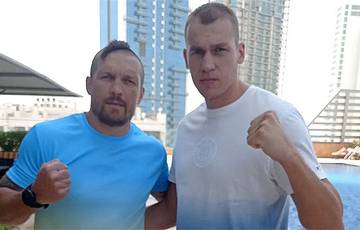 June 3, 2022, 8:52 p.m.
Damian Knyba (7-0, 4 KOs) arrived in Dubai to spar with the WBA, WBO and IBF heavyweight champion Oleksandr Usyk (19-0, 13 KOs). The Pole will become one of the sparring partners of the champion from Ukraine before his rematch with Anthony Joshua (24-2, 22 KOs) scheduled for July 23, which has not yet been officially announced.
---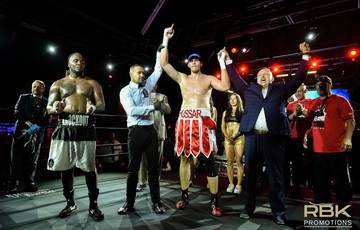 May 24, 2022, 3:01 p.m.
Another sparring partner Oleksandr Usyk (19-0, 13 KOs) in his preparation for a rematch against Anthony Joshua should become a promising Polish heavyweight Damian Knyba (7-0, 4 KOs). This Saturday, the two-meter boxer made his victorious debut in the USA, and in a few days he is going to spar with the WBA, WBO and IBF champion. Initially, the rematch between Usyk and Joshua is scheduled for July 23 in one of the countries of the Middle East. Earlier, information appeared that Martin Bakola would also help the Ukrainian.
---
DAMIAN KNYBA PROFILE WHAT IS DAMIAN KNYBA'S RECORD?
Damian Knyba's record currently stands at 7 wins, 0 lose and 0 draw.
WHERE IS DAMIAN KNYBA FROM?
Knyba was born in Poland.
HOW LONG HAS KNYBA BEEN FIGHTING?
Damian Knyba made his professional debut in June 2021, so he has been a pro for 1 year.
HOW TALL IS DAMIAN KNYBA?
Knyba is 6' 7" (6 Foot and 7 inch) which is 201 cm (2 meters and 1 centimeter).
WHAT IS KNYBA'S REACH?
His reach is 86 inches (86") which is 218 cm (2 meters and 18 centimeters).
WHAT STANCE DOES DAMIAN KNYBA USE?
Knyba fights from a orthodox, which means he favours his right hand as his power hand when fighting.
WHAT WILL BE DAMIAN KNYBA'S NEXT FIGHT?
Damian Knyba doesn't currently have a fight scheduled