Nationality:

Residence:

Omsk, Russia

Born:

Jan. 17, 1989 (34 years)

Place of Birth:

Omsk, Russia

Height:

5′10″ / 180 cm
Record:

36-7, 10 КО

Division:

Lightweight (155 lbs)

Debut:

Dec. 12, 2008
Next fight of Alexander Sarnavskiy is not determined yet.
Boxing News: Alexander Sarnavskiy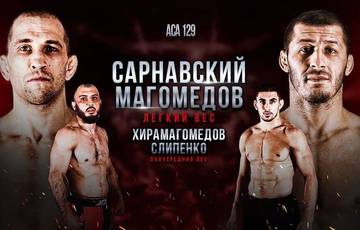 Sept. 24, 2021, 1:45 p.m.
Today in Moscow there will be a tournament ASA 129. The tournament will start at 17:00 Moscow and Kiev time. The prelim battles will be shown here TEXT. The main card will start at 10 am ET. It will be shown here.
---
ALEXANDER SARNAVSKIY PROFILE WHAT IS ALEXANDER SARNAVSKIY'S RECORD?
Alexander Sarnavskiy's record currently stands at 36 wins, 7 loses and 0 draw.
WHERE IS ALEXANDER SARNAVSKIY FROM?
Sarnavskiy was born in Russia.
HOW OLD IS ALEXANDER SARNAVSKIY?
The Alexander Sarnavskiy is currently 34 years old. He was born on Jan. 17, 1989, so he will turn 35 in 3 months and 19 days.
HOW LONG HAS SARNAVSKIY BEEN FIGHTING?
Alexander Sarnavskiy made his professional debut in December 2008, so he has been a pro for 14 years.
HOW TALL IS ALEXANDER SARNAVSKIY?
Sarnavskiy is 5' 10" (5 Foot and 10 inch) which is 180 cm (1 meter and 80 centimeters).
WHAT WILL BE ALEXANDER SARNAVSKIY'S NEXT FIGHT?
Alexander Sarnavskiy doesn't currently have a fight scheduled