Alias:

Lights Out

Height:

5′9″ / 178 cm

Reach:

72″ / 183 cm

Stance:

Orthodox

Возраст:

55 years

Nationality:

USA

Place of Living:

USA, Sherman Oaks
Wins:

76 (46 KO)

Losses:

10

Draws:

3
Wins:

77 (47 KO)

Losses:

10

Draws:

3
Height:

6′1″ / 188 cm

Reach:

75″ / 191 cm

Stance:

Orthodox

Возраст:

48 years

Nationality:

USA

Residence:

USA, Palestine
Wins:

24 (10 KO)

Losses:

20

Draws:

2
Wins:

24 (10 KO)

Losses:

21

Draws:

2
Date:

13.05.17

Title:

world title (WBF)

Location:

Ypsilanti, Eastern Michigan Convocation Center, USA

Division:

Heavyweight (Unlimited)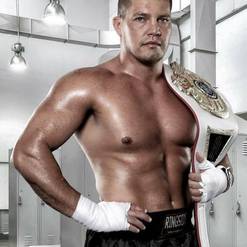 12-round boxing match, which was held on May 13th in the town of Ypsilanti, Michigan, USA, and had vacant WBF (World Boxing Foundation) heavyweight title at stake. The fight was final in the long career of 48-year-old former world champion James "Lights out" Toney, which he said was the last time he enters the ring against the 41-year-old veteran Mike Sheppard.
Tickets to the Convocation Center of the University of Eastern Michigan could be purchased for $35 - $300.
Main Event Professional Boxing (Eric McGuire) along with Toney's Lights Out Promotion were promoting the card.
Boxing News Toney vs. Sheppard
Photo of the fight Toney vs. Sheppard