Shokran Parwani to help Joshua prepare for Usyk
IBF, WBA and WBO heavyweight champion Anthony Joshua will benefit from Shokran Parwani's help as a sparring partner. Parwani will try to imitate the fighting style of Alexander Usyk. Joshua will have a mandatory defense against Usyk on September 25 at Tottenham Stadium in London.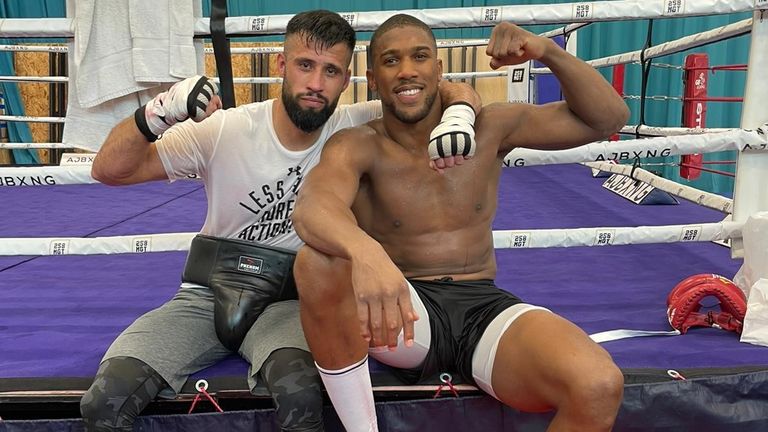 Shokran Parwani and Anthony Joshua
"Our styles are a bit similar," Parwani told Sky Sports. "I work with my feet a lot. I'm a smart guy and I move a lot in the ring. Usyk is also a clever guy, he is not a puncher. I saw him live in a fight against Marco Huck. He is very good, he has a very high IQ, I highly value him as a boxer. But he has no punching power. In the ninth, tenth or eleventh round, he won't have the strength to fight and AJ will break him."
In the past, Huck and Derek Chisora ​​used Parwani as a sparring partner when preparing for their fights against Usyk. Last October Usyk defeated Chisora ​​by unanimous decision in a tough 12-round bout. The fight was much harder for Usyk than many expected. Parwani said he was praised by David Haye, Chisora's former manager, for his ability to emulate Usyk's style.
"It was a good sparring match. In the first round, I thought, "Wow, this is Chisora! Everyone is talking about him, and now we are sparring! I moved a lot and after the second or third round I realized that I don't miss a lot of punches," Parwani said.
"Chisora ​​was in the best shape of his life. Watch his fight with Usyk - he fought in a right-handed stance, then switched to a southpaw. It was unexpected. His pressure was extraordinary for a heavyweight. David Haye (then Chisora's manager) told me that I did a great job," Parwani sais.