Shlemenko: I hope the young fighters will not repeat my mistakes
Russian MMA fighter Alexander Shlemenko told to SE about the reasons of his defeat to Bruno Silva and plans for the future. "Most importantly - I worked without a game plan," said Shlemenko. "This is the main reason of the defeat. I had to wait first, but not immediately to go in the brawl. I had the success attack at the start of the battle, it relaxed me. I decided that win is a matter of time. Unfortunately, I did not consider that he, too, could hit, and dropped my hands. But Silva is a puncher."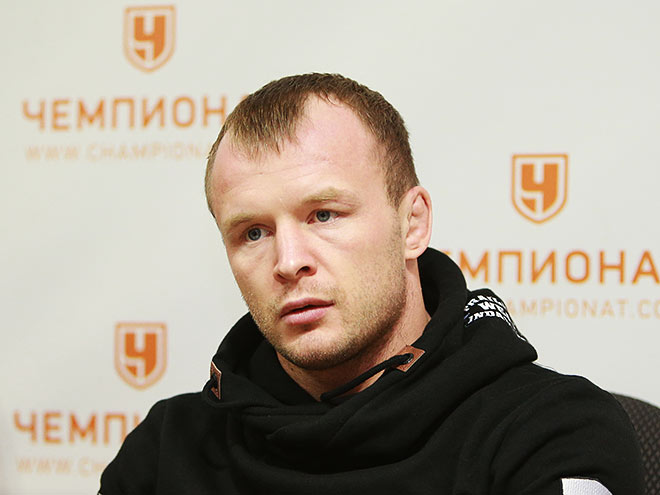 Alexander Shlemenko
- Don't you think that the referee stopped the fight prematurely?
- To be honest, I do think so. I immediately told him about it. The referee stopped the fight when I was a little hurt, but there was no knockout, of course. But I did not make any claims, because nobody knows what would happen if he did not stop the fight. Slava Kiselev worked professionally, his task was to save my health. I was taking a risk, I missed, but the referee could give me some time. I had a similar situation with Cooper: I was hurt, but the referee did not stop, and I won the fight. In yesterday's match, I was still not at the ropes. My legs went limp, I tried to get up, but I caught on the ropes and could not get up. By the way, the similar situation was with Fedor and Maldonado, he was beaten, but he survived and reduced the fight, at least, to a draw.
- Did Silva surprise you?
- No, that's what I was waiting for. I treated him well before the fight, I was concentrated, but then for some reason I relaxed, started to drop my hands. I made unpardonable mistakes, and I was caught as a newcomer.
- Was there an underestimation of the opponent?
- I forgot who I went to fight with, forgot that he was a puncher, but I always have to be on the alert. It's only in the fifth round you can relax. I hope young fighters will read this interview and will not repeat my mistakes.
- Did you have a chance to finish him in the attack that you held at the start of the fight?
- Of course. It overlapped. It was necessary to continue, but I let him go. I already started playing with him. It's all because of non-assortment. I wanted to do beautiful.
- Looking back, you do not admit that some mistakes were made in the preparation?
- I do not think so. The preparation was done correctly, everything was fine. Here is the connection to the battle, the last minute - here I would change everything. I'm not tuned to the fight. I was too sure of the victory. You cannot do it this way.
- Why did it all happen?
- I've been analyzing my entire career since, defeats to Tito, Hosey, Silva now. They all look alike in the sense that I was the favorite before the fight. I'd better fight when I'm an obvious underdog. I do not blame anyone, I'm a pro, I should not be led on it, but it does not work. When people are too confident in themselves, they begin to believe in victory. You can neglect protection.
- What are your future plans? Is the Bellator in action?
- The fight in Bellator remained. I, frankly, thought that after this defeat I would be fired from there, but the manager said they are still interested in me. Maybe it would be better if they fired. Now I need to fight quickly, and try to negotiate with Silva about the rematch. I understand that he does not need that we have switched places in the ratings, he is now the A-side, I'm in the role of catching up. But I would love to have a rematch. I hope we can come to an agreement.
- In one of the interviews you said that you are considering the option to even register for the Moscow UFC tournament. Is this possible?
- I would like, but it is unreal. If I were fired from Bellator, it would be possible, but not now.