Saunders' son punches, kicks Monroe Jr (video)
Controversy reared its head at the weigh-in for Billy Joe Saunders' world title defence against Willie Monroe Jr when the champion's son aimed blows at the challenger.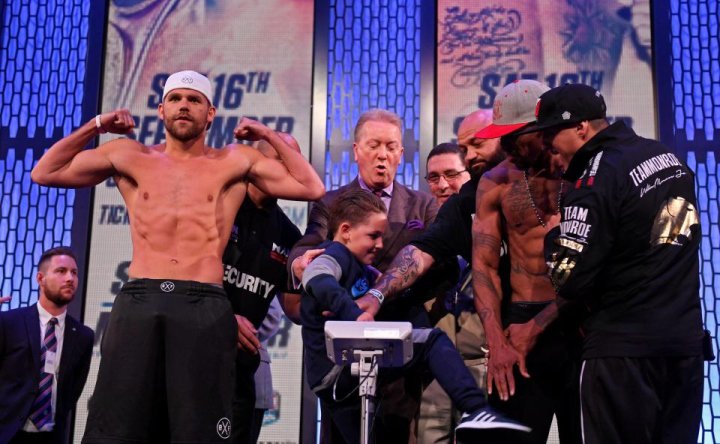 Stevie Saunders -- just seven years of age, according to reports -- threw a punch at the groin area of Monroe Jr before adding a kick as security dragged him away.
Saunders (24-0, KOs 12) and Monroe Jr (21-2 KOs 6) clashed earlier in the week at a gym, where members of the American's entourage exchanged insults and headwear thefts.
Monroe Jr said in the wake of that confrontation: "The classic defence against fear is noise. I don't need to make noise. I'm over here with six people, he has the whole country and he still has to make noise.
"He got a six-pack six weeks ago and he's happy. He sounds like Kermit the Frog."
The pair meet at London's Copper Box on Saturday night, with the 28-year-old Saunders looking to defend the WBO middleweight crown for a second time.