Nationality:

Residence:

Trelew, Argentina

Height:

6′3″ / 192 cm
Record:

9-0, 6 КО

Debut:

May 25, 2019

BoxRec ID:

852701
Next fight of Lenier Pero is not determined yet.
Date
Participant
Record
Results
Date
Participant
Record
Results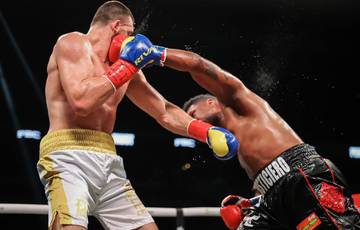 Feb. 13, 2023, 7:01 p.m.
Ukrainian heavyweight Viktor Vykhrist (11-1, 7 KOs) commented on his first loss to Cuban in his professional career Lennier Perot (9-0, 6 KOs), to whom he lost ahead of schedule in the eighth round of their fight last Saturday in San Antonio in the USA.
---
LENIER PERO PROFILE WHAT IS LENIER PERO'S RECORD?
Lenier Pero's record currently stands at 9 wins, 0 lose and 0 draw.
WHAT WAS PERO'S LAST FIGHT?
Lenier Pero's last fight took place against Viktor Vykhryst on Feb. 11, 2023, in San Antonio, USA. He won by TKO in the 8 round. That fight was 1 month and 15 days ago.
HOW ACTIVE IS LENIER PERO?
Pero's last 1 fights have come over a period of day, meaning he has been fighting on average every month and day. In those fights, he fought a total of round, meaning that they have lasted round on average.
WHERE IS LENIER PERO FROM?
Pero was born in Cuba.
HOW LONG HAS PERO BEEN FIGHTING?
Lenier Pero made his professional debut in May 2019, so he has been a pro for 3 years.
HOW TALL IS LENIER PERO?
Pero is 6' 3" (6 Foot and 3 inch) which is 192 cm (1 meter and 92 centimeters).
WHAT STANCE DOES LENIER PERO USE?
Pero fights from a southpaw, which means he favours his left hand as his power hand when fighting.
WHAT WILL BE LENIER PERO'S NEXT FIGHT?
Lenier Pero doesn't currently have a fight scheduled