Jake Paul: 'I have no doubt Feldman got money from Matchroom'
Social media star, boxing promoter and yet undefeated heavyweight Jake Paul has accused American referee Glenn Feldman of venality, who in recent years has been the author of some of the most controversial refereeing notes in significant fights. So in April, Feldman gave the widest score (97-93) to Kathy Taylor in her win over Most Valuable Promotions' Amanda Serrano, which is managed by Jake Paul. Feldman also saw Anthony Joshua win in his rematch with Oleksandr Usyk in Saudi Arabia in August.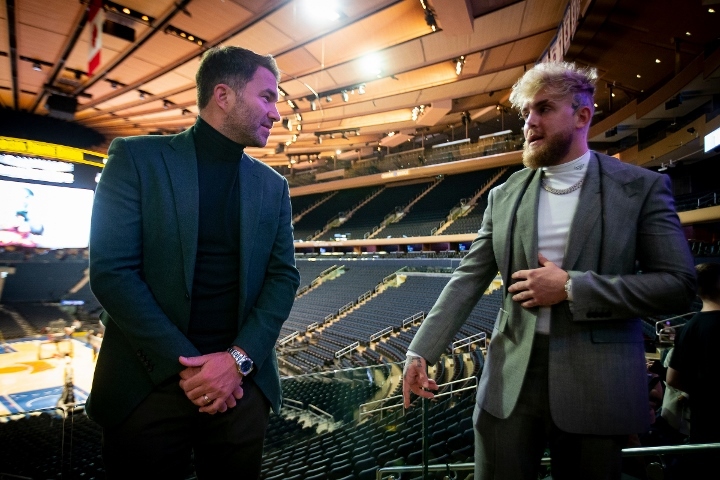 Eddie Hearn and Jake Paul
"I still think Amanda Serrano won that fight," Jake said in an interview with IFL TV. You can see for yourself how Glenn Feldman judges. He had the biggest score in Taylor-Serrano. Almost everyone had a draw... a draw or Amanda's victory. But Feldman gave the victory to Taylor by an unbelievably large margin, from giving Taylor rounds that Amanda clearly won."
"Then this same referee, Glenn Feldman, shows up in Saudi Arabia and sees Anthony Joshua win against Usyk. Everyone who watched the fight knows that it was not a split decision. Usyk had an unconditional victory, a clearly won battle. And this referee, Feldman, is giving the win to Anthony Joshua? For me, it's like a repeat crime. This is complete bullshit, this is bullshit. Obviously this guy is getting money from Matchroom Boxing."
Jake Paul believes that in the case of Feldman, boxing fans have become witnesses not of ordinary incompetence, but of egregious corruption between the referee and the promotional organization.
"It's a bold statement and an accusation that I don't take lightly, but it's quite obvious," Paul added. "They didn't even try to hide it. One would think that they would take another judge, and not the one who ruined the Taylor-Serrano notes, and that they would bring another judge to Saudi Arabia, especially since he is from the United States. But why does he suddenly appear in Saudi Arabia? It would seem easier for them to find another referee to try and cover up the corruption they bring to the sport, but they don't care. It is obvious".
After such statements, it is safe to say that Feldman will never work at Most Valuable Promotions tournaments, and MVP co-founder Jake Paul will most likely never deal with Matchroom Boxing again, with the possible exception of a trial.